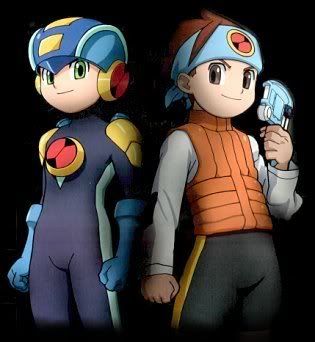 Size: +/- 70 Mb
Extension: Rm(vb)
Status: Complete
Total Eps : 56
Host: Rapidshare
Story:
Hikari Netto is a fifth grader at Akihara Elementry. He has a Net Navi called Rockman which is stored on Personal Terminals (PET). Two of Netto`s fellow classmates Dekao has a Net Navi called Gutsman, and Meiru with a custom Net Navi called Roll. Dekao and Netto usually battle each other in the net just to prove who is stronger.
Net Navis are popular with the kids and they can have net battles which they log their PET into a computer and fight inside the computer. Each Net Navi can be customized to each individual person to their liking. while in a net battle the kids can plug in battle chips to give their Navi a weapon to fight with.
However, an evil organization called the World Three have been using Net Navi`s to set terrorist attacks on computer networks and the only one to stop them is Rockman, Gutsman and Roll.
Link here:

Episode 01 Puraguin! Rokkuman
Episode 02 Spontaneous Happenings in the Subway!
Episode 03 Shigunaru Panikku!
Episode 04 Count to Three !
Episode 05 Challange of the Fish Stampede!
Episode 06 Subzero Temperature!
Episode 07 Duel at Midnight!
Episode 08 Ribenji Faiaman!
Episode 09 ??????????
Episode 10 ?????????!
Episode 11 Invisible Enemy!
Episode 12 Crash! The Pink Spark!
Episode 13 Burning Hot (Exploding) Net Battle!
Episode 14 Sutoriito Faito!
Episode 15 Special Training - Program Advance!
Episode 16 Wonderous (Miracle) Net Navis!
Episode 17 Commander Beef`s Identity
Episode 18 Secret Operation! (Evil Maneuvers!) World 3!
Episode 19 Horrid! Demon Chip!
Episode 20 Yaito-chan, Close Call!
Episode 21 Ultimate Tag BR Whirlwind!
Episode 22 Fainaru Batoru no Hateni
Episode 23 King of Devastation, Pharohman
Episode 24 Rockman Revival Strategy!
Episode 25 Revive! Rockman!
Episode 26 Bizarre! Mystery of the Ghost Ship!
Episode 27 To Become an Idol!
Episode 28 Rockman Stolen!
Episode 29 Trap of the Poisonous Snake Lady!
Episode 30 Capture Chantra Lake`s Long-Necked Dinosaur!
Episode 31 The Splendid Curry Battle!
Episode 32 Net City!
Episode 33 Destroy the Virus Factory!
Episode 34 Great Confusion in Electronic Money!
Episode 35 Zero Seconds Before the Breaking of the Dam!
Episode 36 Turn Densan City to the South Pole Plan!
Episode 37 Crimson Flash!
Episode 38 Strangely Strong! Cutman Brothers!
Episode 39 Puri Puri Purinsesu!
Episode 40 I`ll Battle You!
Episode 41 The Good Dog, Rush!
Episode 42 Gospel, A Change of Life!
Episode 43 I Will Lead in Baseball!
Episode 44 Kightman`s Betrayal!
Episode 45 Get to that Moon!
Episode 46 Dr. Wily`s Inheritance!
Episode 47 Netto Moobiru Guranpuri!
Episode 48 The Cybernetic Monster!
Episode 49 Gosuperu
Episode 50 Forute
Episode 51 Break Down!
Episode 52 The Secret of the House of Ayanokouji
Episode 53 Commander Beef VS Netto-kun!
Episode 54 Chisao Has Come to Town!
Episode 55 Blues` Long Day
Episode 56 Uirusu Basutaazu!