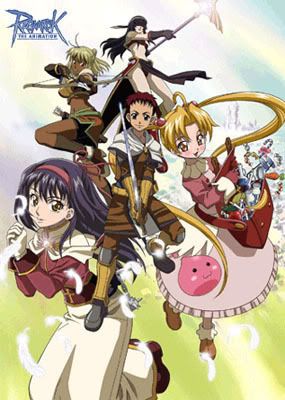 Size: +/- 70 Mb
Extension: Rm(vb)
Status: Complete
Total Eps : 26
Host: Rapidshare.com
Story:
Many young adventurers journey across the changing Rune Midgard Kingdom. Yuufa (Job: Acolyte), who has said her goodbyes to her brother Orki`s grave, and Roan (Job: Swordsman), a childhood friend, encounter many people on their fight against the shadows that loom over the kingdom. The two are oblivious to the fate that approaches them. Will they grow stronger on their journeys? And will Roan`s feelings for Yuufa take their relationship to a higher level?
Yuufa and Roan meet many unique people on their journey. Maaya, the merchant who is traveling with her Poring "Poipoi". Judia, an excellent hunter who likes fortune telling. Takius, a mysterious mage who is always wearing a blindfold. These encounters with others only adds to the variety of their story. What fate awaits the young adventurers?
Link here:

Episode 01 Sono ken wa nan no tame ni aru no desu
Episode 02 Yoroshiku ne, onii-chan
Episode 03 Watashi wa shinjitemasu
Episode 04 Sore wa omae no chikara nano ka
Episode 05 Ima, nante ittano?
Episode 06 Dare ni mo watashi no jamma wo sasenaindaraka
Episode 07 Nagusamete kureruno!?
Episode 08 Inochi no takasa wo shiranu mono wa fukou da
Episode 09 Subete wa shinri no tame ni
Episode 10 Niisan nandesho!
Episode 11 Kono yo ni aru no wa shitsubou dake da
Episode 12 Boku ja dame nanda...
Episode 13 Mamorusha...
Episode 14 Doushite kotaete kudasaranai no desu
Episode 15 Daijoubu, ore ga iru
Episode 16 Nanimo sukuenai...
Episode 17 Sude ni omae mo yogorete iru
Episode 18 Minna wakattetanya
Episode 19 Zutto issho dayo
Episode 20 Mou, iiya...
Episode 21 Omae ga hitsuyou nan da
Episode 22 Sabishii no wa dotchi!
Episode 23 Sayonara...
Episode 24 Subete no ketchaku wo tsukeru basho
Episode 25 Ayamachi ni kizukishi mono
Episode 26 Watashi-tachi no Mirai no Tame ni!