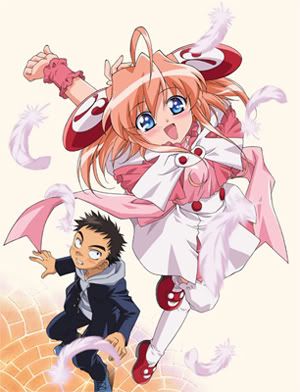 Size: +/- 60 Mb
Extension: Rm(vb)
Status: Complete
Total Eps : 24
Host: Rapidshare.com
Tomonori Iwaki is a boy in the third grade of junior high. One day, he met a 12-year-old artificial girl waiting for him at his home, Rizel, whom the Japanese government had married to him without his consent. Will Tomonori accept Rizel as his wife?
Link here:

Episode 01 Totsuzen! Osanazuma!?
Episode 02 Dokusen! Otona no Jikan!?
Episode 03 Mezase! Futari de O-futon in!?
Episode 04 Daitan! Dakarete Happy!?
Episode 05 Yattane! Isshoni Itchatta!?
Episode 06 SOS! Abunai Houkago!?
Episode 07 Rival? Chichideka Joshikousei!
Episode 08 Chikara Zuku!? Gattai Go Byou Mae!
Episode 09 Hatsutaiken!? Atashi ga Daichatta!
Episode 10 Love Letter Panic! Koi no Itabasami!?
Episode 11 Natsu da! Umi da! Mezase Densetsu no Kiss!?
Episode 12 Otonae no Tobira! Hajimete no C!?
Episode 13 Hafuun!! Adult Goods de Daihenshin
Episode 14 Inochi Kakemasu! Uffun Hatsu Date
Episode 15 Shinanai de Danna-sama!! Honki Power no Dash!
Episode 16 Shuugakuryokou, Nishi e... Miwaku no Double Date!?
Episode 17 Shuugakuryokou, Nishi e... Miwaku no Double Furin!?
Episode 18 Shuugakuryokou, Nishi e... Miwaku no Battle Swapping!?
Episode 19 Otona no C, Osanazuma ni Nani ga Okotta ka!?
Episode 20 Fureau Yawahada!? Hafu Hafu Hatsu Shoya
Episode 21 Yokubou no Omomuku Mama ni!! Ai Koso Subete!
Episode 22 Taido Hyouhen!! Yatchattara Sore made yo!?
Episode 23 Isshokusokuhatsu!! Hafun Bishoujo Dairansen
Episode 24 Hajimete Shimasho!