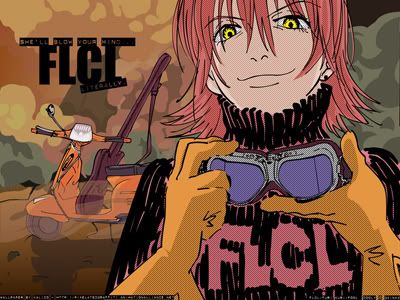 This anime is also referred to as Furi Kuri. If you like over-the-top anime, this is it. The characters are all quite eccentric and very funny to watch, so there's never a dull moment. For how short it is, you end up really liking them a lot. And the music has to be mentioned. Along with Cowboy Bebop, I think it's my favorite anime soundtrack. It's short, but oh so sweet.


OVAs: 1-6
Language: Japanese
Quality: DVD
Subtitles: English by KAA
Video: MKV

Password: malevolent@tehparadox.com

Synopsis: Naota is a normal Japanese 6th grade boy (although a little cynical), but when his older brother leaves for America to play baseball, he leaves his homeless 17 year old girlfriend Mamimi. She is sending mixed signals and advances to Naota, and he doesn't know what to do about her. But to make matters worse, Naota's world is totally turned upside down when he is run over by a woman on a Vespa. During their first encounter, she hits him over the head with her guitar, which then causes a horn to grow out of his forehead. She calls herself "Haruko", and her presence changes Naota's life to even further insanity.
OVA 1: Fooly Cooly

http://rapidshare.com/files/83071035/KAA_FLCL_01.part1.rar
http://rapidshare.com/files/83074857/KAA_FLCL_01.part2.rar
http://rapidshare.com/files/83075689/KAA_FLCL_01.part3.rar
http://rapidshare.com/files/83076136/KAA_FLCL_01.part4.rar
OVA 2: Fire Starter

http://rapidshare.com/files/83077030/KAA_FLCL_02.part1.rar
http://rapidshare.com/files/83077857/KAA_FLCL_02.part2.rar
http://rapidshare.com/files/83078627/KAA_FLCL_02.part3.rar
http://rapidshare.com/files/83078944/KAA_FLCL_02.part4.rar
OVA 3: Marquis de Carabas

http://rapidshare.com/files/83079743/KAA_FLCL_03.part1.rar
http://rapidshare.com/files/83080648/KAA_FLCL_03.part2.rar
http://rapidshare.com/files/83081794/KAA_FLCL_03.part3.rar
http://rapidshare.com/files/83082038/KAA_FLCL_03.part4.rar
OVA 4: Full Swing

http://rapidshare.com/files/83082828/KAA_FLCL_04.part1.rar
http://rapidshare.com/files/83083937/KAA_FLCL_04.part2.rar
http://rapidshare.com/files/83084916/KAA_FLCL_04.part3.rar
http://rapidshare.com/files/83085725/KAA_FLCL_04.part4.rar
http://rapidshare.com/files/83086236/KAA_FLCL_04.part5.rar
OVA 5: Brittle Bullet

http://rapidshare.com/files/83086822/KAA_FLCL_05.part1.rar
http://rapidshare.com/files/83087709/KAA_FLCL_05.part2.rar
http://rapidshare.com/files/83088510/KAA_FLCL_05.part3.rar
http://rapidshare.com/files/83088758/KAA_FLCL_05.part4.rar
OVA 6: FLCLimax

http://rapidshare.com/files/83089620/KAA_FLCL_06.part1.rar
http://rapidshare.com/files/83090238/KAA_FLCL_06.part2.rar
http://rapidshare.com/files/83090947/KAA_FLCL_06.part3.rar
http://rapidshare.com/files/83091604/KAA_FLCL_06.part4.rar
http://rapidshare.com/files/83091821/KAA_FLCL_06.part5.rar